Nashua River Rail Trail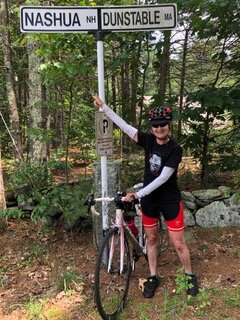 The Nashua River Rail Trail is a 12.5 (20.1 km) paved multi-use rail trail that runs north from Ayer, MA following the course of the Nashua river, passes through Groton, Pepperell and Dunstable, MA and ends about a mile across the NH border in Nashua, next to a little pond.
The line originally opened in 1848 as part of the Worcester and Nashua Railroad that connected Worcester, MA to Nashua NH. It was later extended to Portland, ME. Passenger service ended in 1934 and the last freight train ran in 1982. In 2001 and 2002, the trail was paved and is open to bikers, runners, rollerbladers, strollers, dogs, and horses. In fact, there is a somewhat confusing sign that appears from time to time that directs folks via graphics and arrows who is to yield to whom. Bottom line is everyone yields to horses, no surprise there. That said, we've ridden this trail on bikes a bunch of times, and have never seen a horse.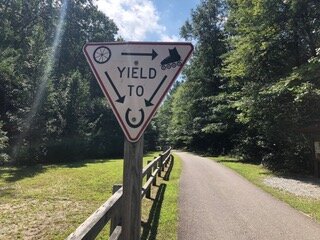 Like most of the Massachusetts rail trails, there is almost no perceptible change in elevation end to end; the actual grade never exceeds 2%. Fast ride without hard pedaling. Remember: we like to coast. The trail goes through wetlands, ponds, woods, and farmland where, if you pay attention, you can spot beavers, herons, and frogs.
Along the route, you will see ancient-looking granite mile markers from when the trains ran. If you are the kind of person who likes to check the bike computer against the markers, you'll be happy to know that my Garmin Edge GPS computer proved super accurate.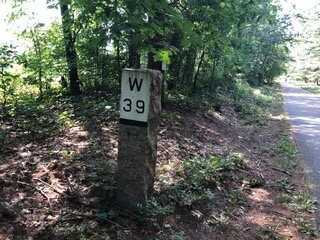 One nice feature for folks from Boston and its environs is the proximity: it's only about an hour's drive to Ayer from the North Shore. There is plenty of parking associated with the rail trail on both ends, although we've only ever gone from south to north, and there are Porta-potties but I wouldn't recommend them. Plenty of woods if the need arises. Not many folks use this trail even on the weekends, but if you want less company the best time to go is on a Tuesday or Wednesday.
There are quite a few rest areas with benches and serene views along the way and about three quarters of the way to Nashua, you pass through the town of Pepperell, a small bustling town with places to eat and drink. Speaking of drink, look for the weirdly placed fully functional old-fashioned soda vending machine on the side of the trail in the middle of the woods!
And speaking of food: There are several places to eat in the town of Ayer which might be okay, we've never tried them, because we found a gem of an Italian Restaurant called Filho's Cucina in nearby Groton, a few miles to the north. This charming place features hand painted walls and tables and chairs, cheerful servers, and a liquor store connected next door where you can purchase a bottle of wine to enjoy with your meal. The Lobster ravioli and shrimp is to die for. And best cannoli ever. Large portions and fresh ingredients. You need to replace your carbs!
As always: Have a great ride.
…and let us know how it goes.
BSquared Crew.
Here is a link to : Filho's Cucina