Ashuwillticook Rail Trail
The word "Ashuwillticook" is a weird name, right? It is from the Native American name for the south branch of the Hoosic River and literally means "at the in-between pleasant river." Makes sense.
The eponymous Rail Trail is a former railway (built in the 1800's) converted into a ten foot wide paved rail trail path, running parallel to Route 8 through the towns of Cheshire, Lanesborough and Adams, Massachusetts.
We began our ride from its southern end where the trail begins near the entrance of the Berkshire Mall, creepily deserted in an end-of-the-world sort of way. The well-maintained trail runs north next to the Hoosic River, passing between the majestic Mount Greylock and the Hoosac Mountains 12.2 miles to the center of Adams. The trail was practically deserted that day, but it is used for walking, biking, jogging, and rollerblading. At times along the way we noticed that the trail was bigger and in better shape than the local roads.
At one point the Hoosic River splits into The Berkshire Pond and The Cheshire Reservoir, charming bodies of water. There is some cool homespun architecture along the way, homes that look as if they've been built by hand over decades. One such featured a mannequin out front -- clearly a Patriot's fan, running shoes inexplicably fastened to the outside of the house, and two toy tractors on the roof, among other fascinating objects artfully arranged.
Also of interest to us were the abandoned factories in the process of being swallowed by nature (i.e. feral cats and raccoons). We also spotted the fabled "Black Sheep" but never did discover which family was associated with it.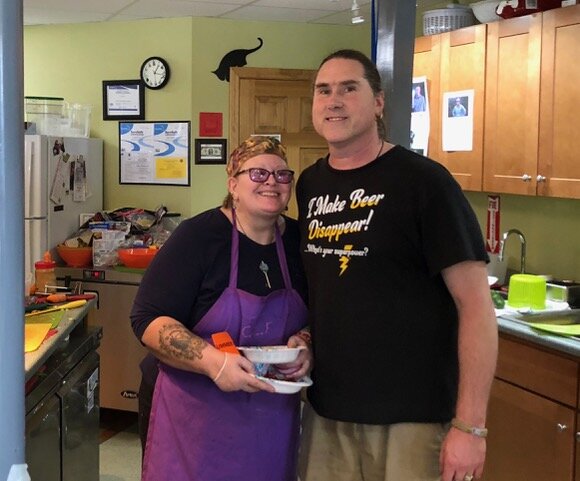 We did not make use of the many benches strategically placed to allow maximum visual beauty (sparkly water, colorful leaves) because we were starving and had as our destination The Coffee Liberation Front, which is conveniently located across the street from the end of the trail in Adams. Score. Homey place and homey food (no meat, Thank God) run by the charming duo, Chris and Andrea. Andrea was mostly a blur in the back, clearly operating the food end of the operation, while Chris, a largish fellow with glasses and pony tail (think: David Foster Wallace), was the friendly face behind the counter. According to his T-Shirt, his superpower was the ability to make beer disappear. Impressive, I think? We lingered for over an hour, so I had the opportunity to notice that he not only knew nearly every customer by name, but they all seemed to be friends. By the end of our stay, we were friends too -- we took a picture and promised to spread the word. The downside was that we had to leave the warmth. But not to worry, as always (Thank you Chef John), the trail is downhill in both directions.